Program Overview
Designed for Options Traders
8 days weekend training
40 Hours of Learning
Access to recorded sessions
Access to Trading Community
Life Time Support
Option Hydra Syllabus
Best-in-class content in the form of videos, theoritical sessions and live sessions
Mentor
Learn from India's leading Market Profile Mentor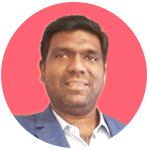 Mr.Rajandran
Full Time Trader

Mr.Rajandran is a Full time trader and founder of Marketcalls, hugely interested in building timing models, algos, discretionary trading concepts and Trading Sentimental analysis. He now instructs users all over the world, from experienced traders, professional traders to individual traders.
Preview Webinars on Option Hydra
I am new to the idea of Market Profiling, The Session was a mind opener, Superb Analysis.

— Sasidhar Reddy (@sasidhar19) February 1, 2020
Best in option with the market profile and Oder flow , thanks rajendra sir

— Nitish Rudr (@RudrNitish) February 1, 2020
Got a totally new perspective of trading. Now I can understand market better and trade with confidence. Thank you Rajandran.

— Sarangthem Vivek (@75444b296d4c456) February 1, 2020
Each and Every session becomes smarter and smarter in the way of our understanding and the way your effort to provide or enable us deeper insight is working Every session , Thanks a lot for the education @rajendran .

— Praveen Karthick (@Praveen4601) February 2, 2020
Hear It From Mr.Ravi
Hear It From Mr.Kishore
Hear It From Mr.Prem
Hear It From Mr.Ramesh
Rs. 40,000 Rs. 25,000
(including GST)
Option Hydra 5.0
Features / Benefits
Total 40+ hours of Online Workshop
Access to Live Trading Room
4 Weeks of live training
Access to Slack Community Chat
Access to Previous Webinars



Enroll Now
Frequently Asked Questions
What is market profile?
Market Profile is an Institutional grade visualization tool which explain what kind of trading behavior is happening in the markets.
Why market profile is used in option hydra?
Market Profile in Option Hydra helps traders to take view based trading and also to manage their risk.
What Will You Learn?
Foundational Futures & Options Trading Basics, Understanding Option Greeks, Volatility, Time Decay and Option Tools etc.,
Who is this course for?
Full time and Part time Traders, Option Traders, Traders who are enthuastic to learn
Do you provide recorded video access?
Yes, all the sessions are recorded and the access will be provided for One year.
Do I get post training support?
Yes, We do provide post training support in the Community webinars(Lifetime Support).
What is a community webinar?
Community webinar are currently accessible only to workshop participants to enhance their Trading Skills.
In a month 1-2 hours will be dedicated to learn the existing concepts better and if any new strategies are implemented it will be part of community webinar.
Is there any chat support during live markets?
Yes, We do provide chat access to our private trading group(Slack) to learn during live markets where traders can ask questions, listen to the experts and learn how strategies are implemented during live markets.
It is life time access to all the workshop participants.